Century Bath Tubs Refinishing & Reglazing
BATHTUB
REFINISHING & REGLAZING
Bathtubs & Sinks Refinishing
Does your bathtub or sink look old and are in need of a good touch up? Forget about the costly and labour intensive process of removal and replacement. From fiberglass all the way to porcelain, your fixtures will be remarkably refined with our refinishing system. Your fixtures will look brand new and colours may be changed to your satisfaction with application of a durable finish. With proper care, this finish should last 10-15 years, not to mention it makes cleaning your fixtures much easier. This fast, easy, and inexpensive process only requires a day in total then your fixtures will be ready to use for your leisure.

Most people have a hard time telling the difference between a new bathtub and sink compared to ones refinished by Century Tubs. With a refinished glossy surface a bathtub or sink is much easier to keep clean. Refinishing is very durable and should last 10-15 years with proper care.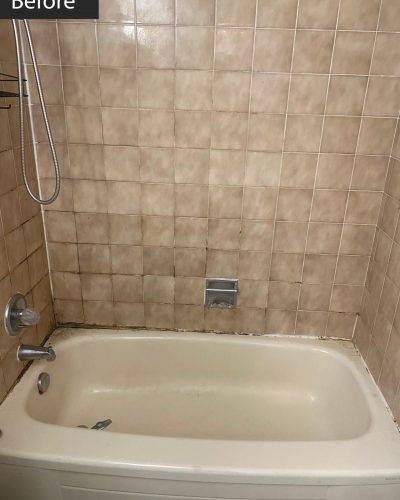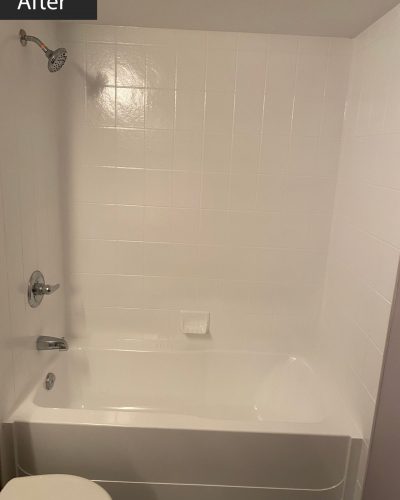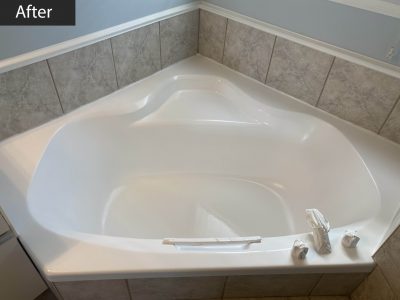 SHOWER Tiles, COUNTERTOPS, AND WALL TILEs
Old ceramic tile showers, countertops, and wall tiles can look beautifully glossed after going through our economically friendly and swift refinishing process. Avoiding the grimy and time consuming process of removal, we can repair any damage just by applying a long lasting coating. Mold and mildew are eliminated as this coating seals in grout and will leave your tiles stunning.
LAMINATE, CULTURED MARBLE AND KITCHEN CABINET SPRAY PAINT
Repairing and refinishing of laminate, cultured marble, or formica countertops can save you the hassle and cost of removal and replacement. Your countertops, whether in the kitchen or in the bathroom, will look charming with our imperishable finish.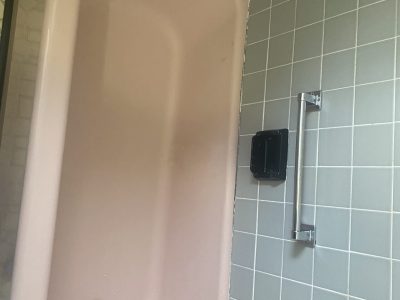 We use a multi-step process to resurface your tubs, tiles, acrylics, marble, fiberglass, arborite, countertops, and cabinets. We can also do chip repairs and apply slip-resistant surfaces as a safety feature for bathtubs.
Bathroom tubs, tiles, sinks, clawfoot tubs, kitchen sinks, countertops, and cabinets are all examples of surfaces and appliances that can be serviced.
A great advantage to this system is that color matching is possible, which gives even further reason not to replace everything. We offer a fast, durable and cost-effective way to give your room the facelift it deserves! We use EP-Acrylic by Integrity Coatings. This is the finest product that we know of available today. Integrity's products have all proven their quality and durability over time, and are isocyanate free for the protection of our technicians and our clients.
We do not use epoxy enamel even though it is much cheaper because it does not stand the test of time. We do not use polyurethane because lab tests have proven that these products, with repeated exposures, are extremely detrimental to people's health.
Clear Gloss is a gun sprayed acrylic refinishing product. It will protect the grouting of tiles and making mould build a thing of the past permanently. Clear Gloss is warranted for five years. The products we have chosen to use are the most durable and reliable in the market along with the trained and certified professionals we use makes this the smart and economic way to bathroom and kitchen renovation.
EP-ACRYLIC COATING SYSTEMS
EP-ACRYLIC coating systems are to be used wherever exposure to a wide variety of elements is anticipated and whenever marring or scratching is a problem or continued endurance must be expected over an extended period of time.
The appearance, exceptional adhesion, low curing time and temperature resistance of this system is suitable not only to metal and concrete surfaces but to newer structural materials such as polyester fiberglass, structural foams, porcelain, steel, cast iron, ceramic tile, nylon and many plastics.
The EP-ACRYLIC system has been found to be superior to epoxies and acrylic urethane re-surfacing systems, and is the leading coating system in the Kitchen and Bathroom refinishing industry today. Browse thru our site for more information on the refinishing services we provide, then give us a call for a free estimate.
© Century Bath Tubs 2022 - 2023 - All right reserved